Скраћена веза: https://pedja.supurovic.net/veza/7318
Soon after I got him this nice walkie-talkie, my brother Nenad (YU1TTL) quickly found out how to overcome missing feature of UV-B5: LCD background light is turned on only when some keys are pressed and stays on far a very short time. He managed to use flash switch which is used in UV-B6 version but in UV-B5 has no function.
He decided to put up instructions on my blog so others can benefit of this modification. So here it is:
How to use Baofeng UV-B5 flash light switch for LCD background light
by Nenad Supurović YU1TTL
These are instructions for disassembling Baofeng UV-B5 walkie-talkie and also how to modify it to enable the third (Flash light) button to switch the LCD and keyboard back-light on/off
Disassembling:
1. To disassemble UV-B5, first remove the battery, unscrew the antenna and pull off Volume and Chanel selector caps.
2. Undo four visible screws on the back side of unit. (Needs thorax and PH1.)
3. Undo two brass nuts located below Volume and Chanel selector caps. (Needs two small screw drivers.)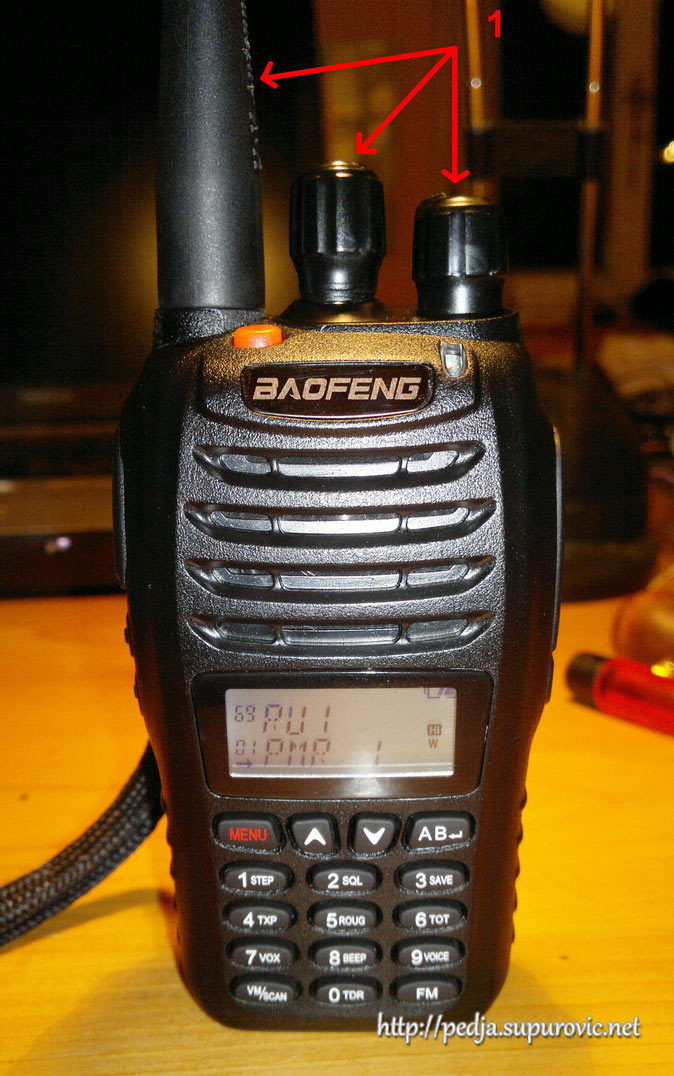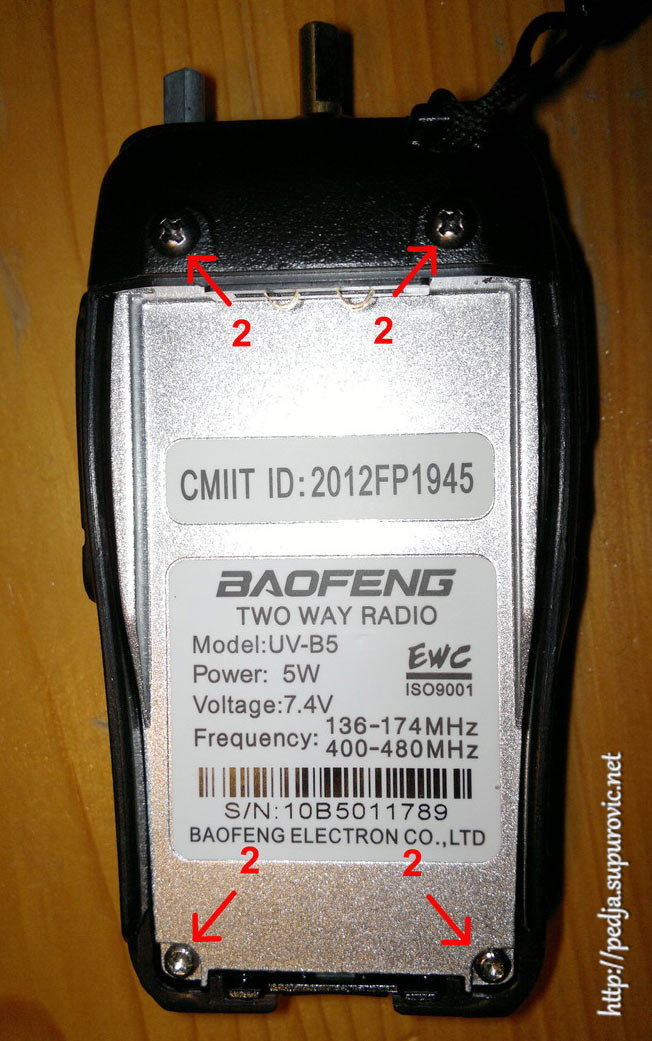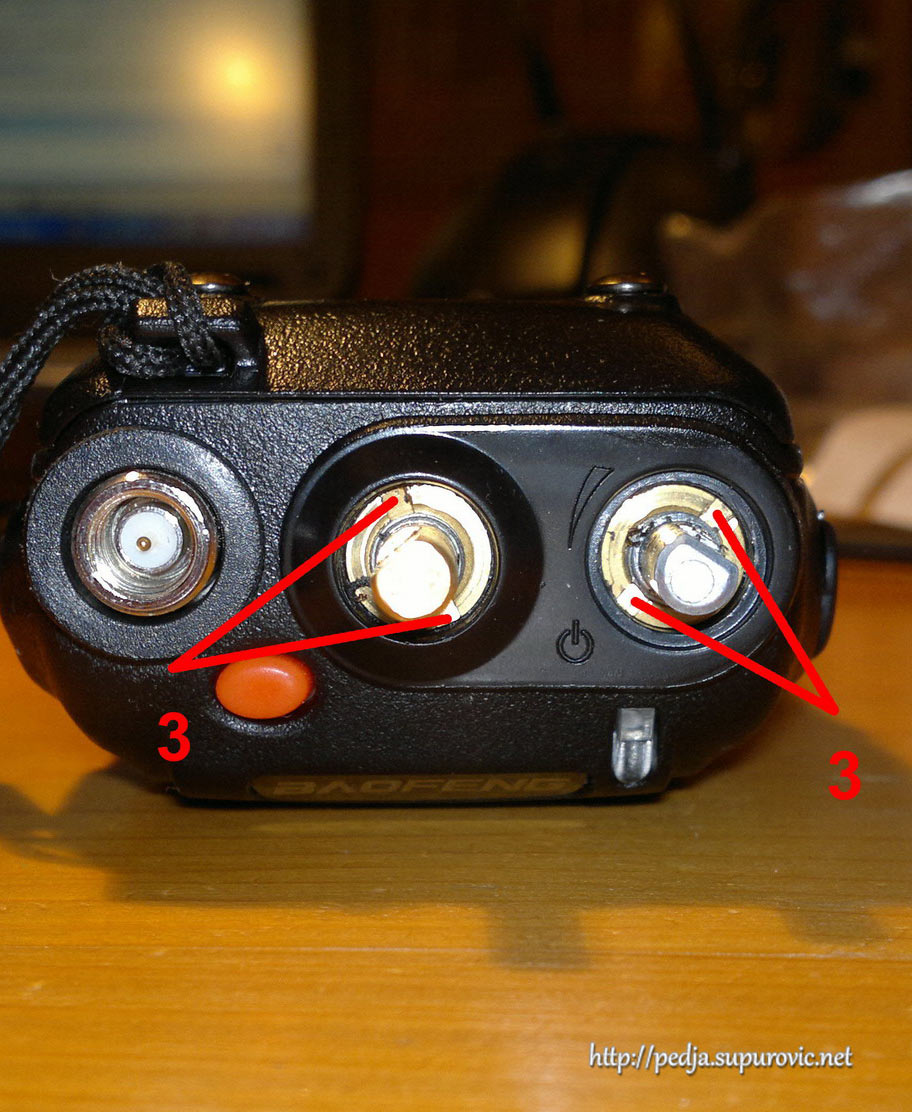 4. Carefully lift the lower part of aluminium frame and then push Chanel selector shaft. This will set frame with main board free, but it will stay connected to front panel by flat cable and speaker wires. Be carefull!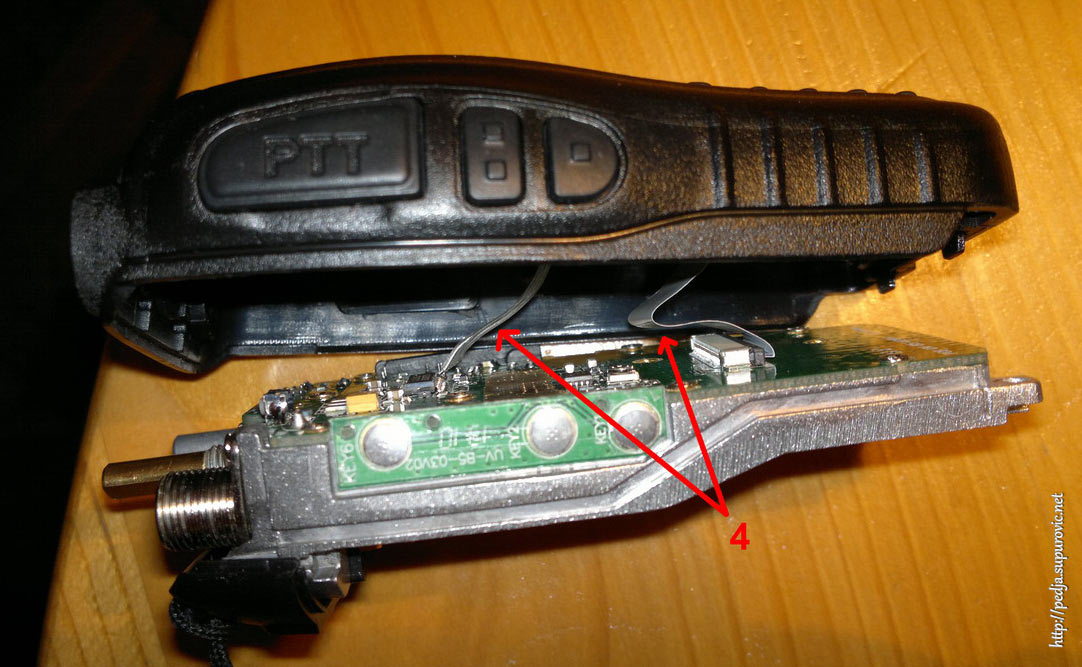 5. Disconnect the flat cable (latched connector!) and desolder the speaker wires. Now you have front panel and main board separated.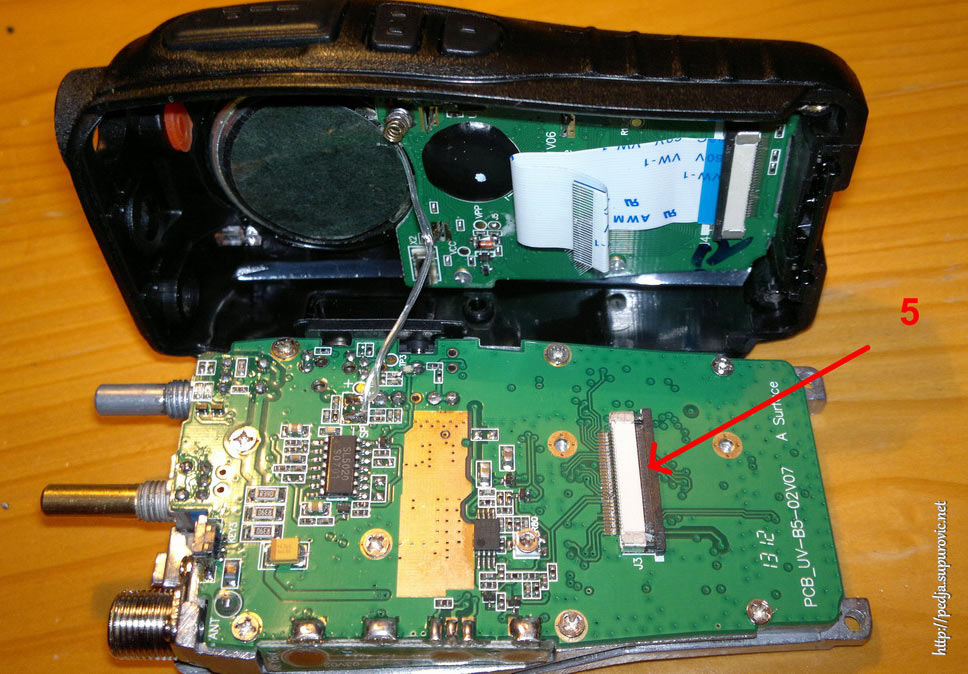 Modification:
In order to make the third (Flash light) button on UV-B5 usefull to switch the LCD and keyboard backlight on/off, you will have to connect point "A" on the front panel PCB and point "B" on the main board, using flexible wire and a diode:
1. On front panel board, peel off insulation from PCB lead connected to SMD transistor (point marked "A"). You can simply continue scratching it with a sharp needle until the whole copper surface is clearly exposed.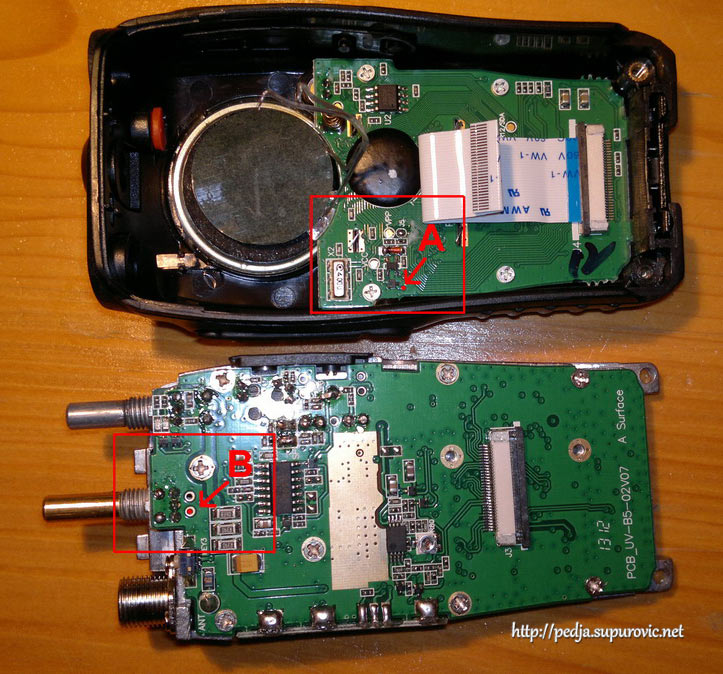 2. Prepare the surface for soldering using flux and soldering iron. Avoid soldering directly to the SMD transistor because it can be destroyed easily! These preparations are critical.
3. Prepare a flexible wire, long enough (7-8cm), with blank soldered ends. Take really the thinnest and the most flexible wire you can get! Solder one end of the wire to the prepared surface at point "A". Warning: it is extreemly small and delicate, a stiff wire will get disconneced easily!
4. Prepare a small diode (1N4148 or any similar) cut it short and solder it's cathode (-) to point "B" located on main board.
5. Solder the other end of the wire to the anode (+).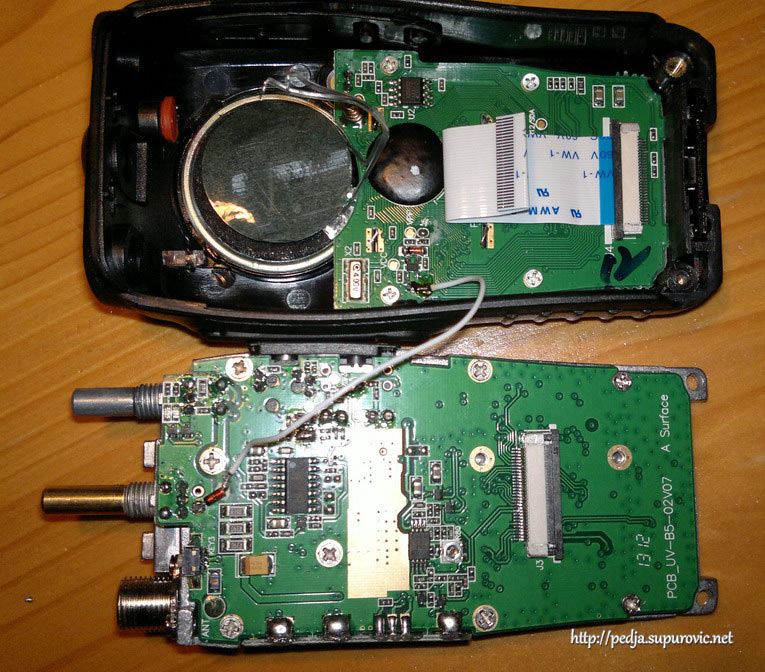 6. Check mechanical stability of soldering points, check for short circuits.. and you are done!
Reassembly: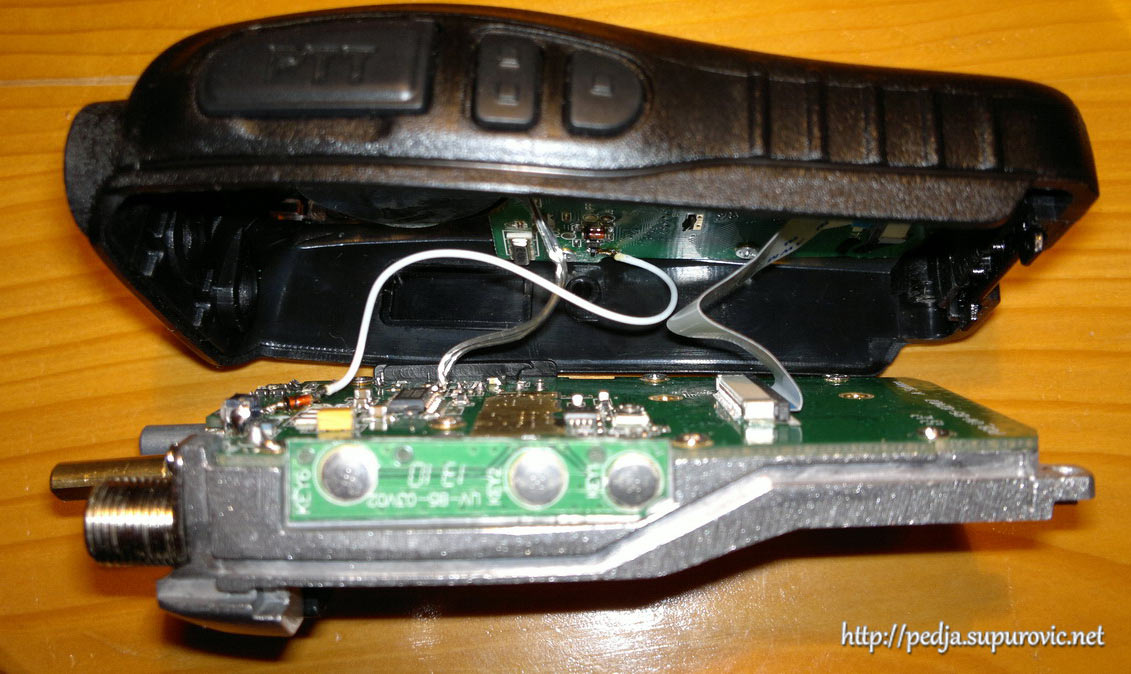 Solder the speaker wires back to where these belong, reconnect the flat cable (latch it correctly!) and assemble everything backwards as disassembled.
Now, if everything is done well, while LCD and keyboard backlight is timed-out to OFF, you can toggle it permanently ON/OFF using the third rubber button (located below PTT and Monitor buttons). Backlight uses only about 10mA from battery, means if constantly lit it will reduse your stand-by time by 30% only. So, no need to worry about it!