Skraćena veza: https://pedja.supurovic.net/veza/8404
For this year World Castle Weekend I activated Old fortress in Uzice (WCA YU-00023, JN93VU, WAS ST03) using my call sign YT9TP/P. Again. Activation was not announced, as usual, and served as surprise for fellow hams chasing WCA points. I had great help from Goran YU4RAA who participated in antenna and station setup.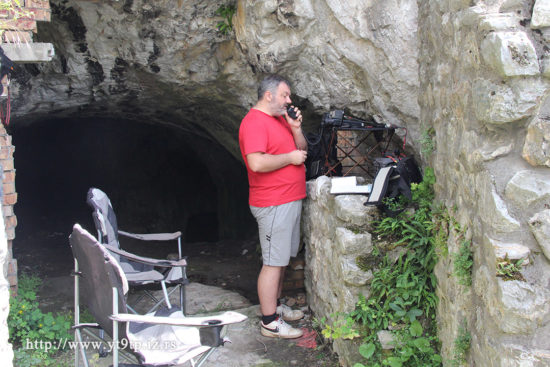 Weather prognosis was not ideal. It was expected to have some showers which reduced our options of station location. Instead of setting it on top of fortress which would provide high point and lot of clear space, and no protection from bad weather, we decided to go safer way and settle at only space that can be used as shelter. So, we settled in the fortress cave. Yes that is real cave, used, in medieval time, as storage space and also as dungeon. Some well known historical characters were imprisoned there at that time.
This year activation was planned to be as portable as possible. It was good opportunity to test out some new installation options I prepared. First, I used different battery: 40Ah Pb as replacement to various LiPo and LiIon batteries I used before. Well it showed up less expensive, heavier, but light enough to carry it on foot, and provides substantial capacity to handle whole day operation.
Radio used was Yaesu FT857D, which does not need special introduction. I also used different antenna. I am fond of dipoles for portable use, and this time was no exception. But, unlike previous single band antennas I used trapped dipole for 14 and 18 Mhz. It proved to be good two band combination, and I am pretty sure some hams appreciated that they had opportunity to hunt new WCA on 17 meters.
Having settled in a dungeon, our options for raising antenna were substantially reduced. Eventually we decided to slope it down from the top and along side of the fortress. It ended up about 2 meters off the stone walls and the ground. Not the best position but served the purpose.
I tested power consumption meter, which proved useful. It was set to measure how much energy I spent during activation. After five hours of work, it showed 16.6 Ah spent. That's less than half of battery capacity I had available which seems good. Another good piece of equipment was Android phone. Actually the real use was for Android application Ham Clock. It is written following my idea and this was the first time I tried it out in the field. If fulfilled my expectations and also I am very satisfied how it helped during portable operation.
Activation started slowly. As I do not like announcing activations no one expected me in the air. For some time I called CQ with no answers. The first answer was from N8KN and he came surprisingly strong. And he had bad news – my modulation was not good. Luckily, it was just setting for mic gain which I fixed and later I got some fine reports for my modulation.
At one moment pile up built up on my frequency but did not last long so for the rest of the day i continue on average rate of about 20 QSOs per hour. Jumping to 17 m slowed QSO rate a lot. Although I got some spots responses for my CQing were pretty sporadic. Signals I heard were quite strong so I guess there were not many stations active. Nevertheless I stayed on 17 m for mote than hour especially because most of the stations expressed appreciation for activating WCA on that band. When no one answered for calls for some time I switched back to 20 meters where was much more activity.
Statistics:
Operating time: 4 hours 41 minutes
Worked bands: 14 and 18 MHz
QSOs: 86
Continents: 2 (EU 84, NA 2)
Countries: 21
Worked stations: N8KN, SZ8LES, OE3XMS, OE3DAS, ON7GR, RX4HJ, S58AL, IK1GPG, RV3ATS, RA3PCI, 9A1AA, UA1OJL, UT2MZ, M0YMA/M, EB7HQE, UA3GJM, W1OW, RW3XZ, S55TB, IZ3ZGK, IK5IVV, DM5SB, ON3EA, LB2DG/M, G0NGG, GB2HBT, EA3GHZ, S59DIQ, YU2TT/P, S51GL, 2E0OUT, YU2MEX, IZ3WXE, IK4NZC, DG2RON, RK6AH, UT6PI, G0BIN, I2ZCQ, GB6AR, M6GKJ, DK3GV, M6JOM, GB0FP, F5PTA, UA3GJM, YO8BLN, R6AG, SP4NKU, OM3YCA, DL1BRD, HA5BDO, UA6HGY, IQ0OS/P, SQ3F, DK0KG, SP5ICQ, SP7AH, RK6AH, F8AAB, DL1NKS, LY2KZ, DF2ZJ/P, OR2R, IZ3SZQ, DJ7BA, OP1V/M, OE7WGT, M0LAF, M0XLT, M6VKN, F4HRM, EA1AR, SP3EWP, EA3BSE, M0CVK, IZ1OZS, F5LML, G8JMP, EA5IML/M, DK0KG, DK2BK, SQ4TES, DK9GT, GM6TVR, YU1AAX
As usual, log is uploaded to LOTW. I would like to get QSL cards via buro too, and I will surely respond to each QSL card.