Skraćena veza: https://pedja.supurovic.net/veza/7592
It was just several days before this year world Castle Weekend that I decided to participate by activating one of the fortresses in surroundings of my hometown Užice. Actually, I was targeted to activate YU-0030, Fortress of Solotnik, as it was never activated before and thus should be more interesting for WCA hunters.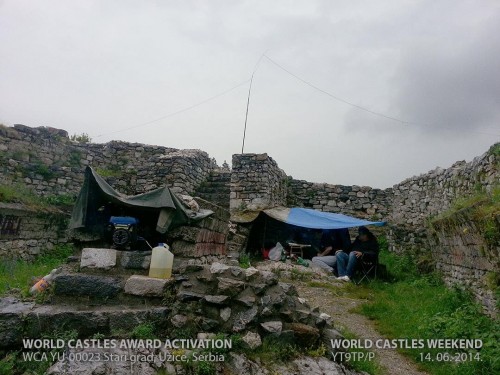 As I still did not have all necessary equipment and tools I asked for a help of Milan YU1ZZ. As experienced contester he was up to the task, ready to improvise if necessary. One short phone call settled it down. Milan is primarily high class contester and DXer, but it seemed to me that he is actually seeking for something fresh and more relaxing, and he was really interested in my previous activation of Old fortress in Uzice (YU-00023).
So he was.
Not that he instantly agreed but he expressed even more interest in whole thing than I, which encouraged me even more. He instantly had ideas for simple antennas that we could build, and even proposed that we do activation on several bands. Even more, he instantly scheduled service for his long time unused power generator to make it ready, so we do not depend on batteries as it was my original idea.
He also pulled out some fishing poles so we could use them to build vertical antennas instead of my a bit cumbersome to use standard dipole. It actually did not take more that hour to finish vertical dipoles for 20 and 15 meters.
It all seemed as quite and interesting and joyful Saturday ahead of us.
Then, two days before weekend weather prognosis changed. To worse of course. Finally, it ended up at cloudy and occasionally rainy. Not what we hoped to, and certainly not as good as having nice time outdoors on sunny weather, but we agreed not to give up and hope weather to be stable. Scheduled to get up early as we have quite a time of drive to the Solotnik location.
In the morning, all our hopes were drown. It was raining really hard. It was much harder that we could handle. But still we did not give up and decided to wait for a while for rain to pass on, and then decide what to do.
But rain did not stop for whole morning. Eventually, when it dried out, substantial part of day was already lost. We quickly decided to change plan. As Solotnik is very remote location and not quite handy for improvising any shelter it was not reasonable to go there and risk our radios. We decided to go to Fortress of Uzice YU-20023. It suitable for building some shelter there, it is very close so we would not lost time in travel, and in case of any problem we are close enough to the city.
We also called Momo YU2MS and my friend Goran to join us. Goran is not a ham, but we are working on it :)
Of course, as we unpacked our stuff out of cars, rain started again. Luckily it was not hard and we had enough time to prepare. Goran and I quickly improvised shelter and Milan improvised antenna. We did plan to be quick, but rain really helped us to break record :)
And just as we set everything up sky opened with heavy rain. We did not care as we and all equipment were safe in dry place.
Setup consisted of inverted v dipole for 20 m set using 4 meter high fishing pole (it was supposed to be vertical dipole but pole was not high enough), Yaesu FT847, laptop and power generator of about 600 watts. FT857 stayed in bags as backup.
All was set on top of the fortress tower where ruined walls were high enough to be used as an part of shelter from rain and wind – and they served very well – although it was raining for most of the day we were on dry and warm place.
I was quite excited by all the setup and atmosphere we built that I actually messed up the activation number. Instead of YU-0023 I gave YU-00028 and I did not realize mistake until few hours. So this is good opportunity to make an apology to the fellow hams for giving wrong location number and ask them to fix error in their logs.
20 meters was not as active as it usually is. Although reports were quite good, it was quite slow so at the end of the day there were 171 contacts in the log. I expected a lot more, but I am very pleased anyways. It is not the count that matters but having good time with friends and testing new setups.
Statistics:
Operating time: 5 hours
QSOs: 171 (CW 93, SSB 77)
Continents: 4 (AF 4, AS 20, EU 144, NA 2)
Countries: 34
Worked stations: 4K9W, 4Z4DX, 9A4MF, CT1EAV, CT9/DL2JRM, DF1IAQ, DH5VK, DJ6HP, DK5ZX, DK6WCO, DL0BQ/P, DL1EGR, DL2LRT/P, DL2ND, DL2NOM, DL2YBG, DL3HX, DL4ALI, DL4BBH, DL5WW, DM3ZM/P, EA1DR, EA2DT, EA3GHZ, EA3HBC, EA3VM, EA4YT, EA5HT, EA6/DL3MCO, EA6ALW, EA8AJO, EA9IB, ES1IP, EW8OW, F1PSX, F4HCK, F5SGI/P, F6DKO, F6DZS, F8BNU, G0OKF, G0PHP, G7GHU, G8HBS, HB0A, HB9CIC, I5FLN, IK1GPG, IK2IQD, IK8DYM, IU7BSE, IZ1ASL, IZ7QEN, JI3MJK, K1LZ, LY2BNL, LY4BR, OH3OJ, ON3JMD, ON3VHK, ON4AYR, ON4DN, ON4LCX, ON5TC, PA0ALW, PA2GRU, PA2SAM, PC3H, PC5Z, PD1CW, PE2K, PH0NO, R0TR, R3AT, R3LO, R3PAA, R7DX, R9FN, R9GM, RA0RHA, RA1OW, RA3DAD, RA3PCI, RA3SX, RA3VME, RA4ACX, RA4FEA, RC4R/P, RK3AIT/6, RM9RZ, RN1CW, RN4HFJ, RO5O, RT9UN, RU5A, RU6LC, RV3PN, RW3XZ, RW6ATD, RW7KM, RX3AEX, RX3ZL, RX9CCJ, RX9WN, RZ6BR, RZ9OL, SM7RZJ, SN6A, SP1MVG, SV2AMD, SV9FBL, TM5GBW, UA0W, UA1AJ, UA1AVU, UA3GJM, UA6AQB, UA6BQU, UA6HGY, UA6UCA, UA6YEX, UA7T, UA9CBR, UA9CGL, UA9JFR, UA9LL, UA9WOB, UR1MI, UR3GI, UR4MF, UR5EDX, UR6EA, UR7ET, US0TA, US3LX, US4IDY, US5ETV, US5MEU, US5MLC, US6IKF, US6ILF, UT1AB, UT3IJ, UT5MQ, UT5PI, UT5UGR, UT7EW, UU4JIM, UX1IM, UX2MF, UX2MS, UX3HA, UX4FC, VE3EXY, YL2GQT, YU177SB, YU1ABH, YU1JW, YU1KN, YU2MS
As usual, log is uploaded to LOTW, eQSL and HAMlog. I would like to get QSL cards via buro too, and I will surely respond to each QSL card.
Slični članci