Skraćena veza: https://pedja.supurovic.net/veza/8176
26. July 2015. Finally, one modest temperature day came after two weeks of very hot weather in Serbia. I saw it as an opportunity to visit mountains and test slowly but steady gathered equipment for outdoors ham radio activities.
I decided to spend nice day activating highest peak of mountain Zlatibor, called Bandera , topping Tornik hill. With height of 1497 meters it dominates area and provides very nice see-sightings.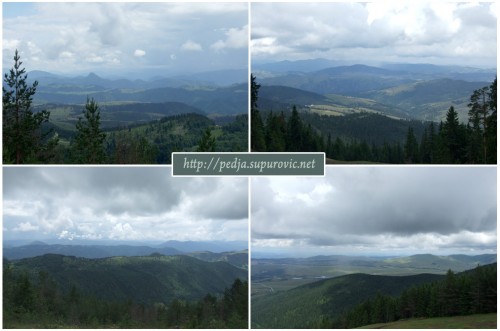 I asked Filip YT1PRO to join me. I guessed as he is quite fresh licensed operator he would be interested to see some action. And I was right. He did not think twice to agree. I also called Momo YU2MS to join in as he did.
Although sky in the morning did look like promising to provide some rain, until we arrived to the top Sun prevailed and we actually got really nice weather for whole day.
Tornik is famous sports center on Zlatibor mountain. It is ski resort equipped with six-seater chairlift providing really good time for winter sports lovers. In summertime, it provides great see-sightings, walking paths and mountain bike paths.
There are, also, quite impressive towers for telecommunications. And, of course, there is a restaurant.
So it is usually quite busy on the top. Today it was really crowded as international bike downhill competition was in progress.
Luckily, we found corner on the hill that is far from crows, quiet, with great view and that was just what we needed.
We unpacked, raised dipole antenna for 20m then FT857D, batteries and some gadgets and that was it. My goal was to run on 20 meters and Filip was supposed to try to make some contacts on 2 meter band using walkie-talkie and my home made moxon antenna.
I recognized the first issue as soon as I powered rig – noise was quite high. Overall, noise was about S7 to S8 units, and also there was some bleeping repeating frequently over whole band. I guess this originates from telecommunication towers that were right next to us. On the other side, the first stations I heard were all with 59++ signals so it was not looking so bad.
I lurked around to hear propagations and the first call was YO4PX. I heard him well 59+20dB and he gave me finr 59 for my 25 watts, so it seemed good.
I settled ad 14.245 MHz and started CQ routine which resulted in slow start. It was not surprising as I do not have habit of announcing activations which that was the case this time too, so it usually takes some time for people to find me. As QSOs count I realized that I am actually not heard well, so I raised power in few steps, ending up with full 100 watts.
And then thing started to speed up. After dozen contacts I got really busy. Soon I had quite impressive pile-up from so many stations that (with help of band noise) made me hardly recognize anything. But I kept up getting new contacts in my log. There were also some periods with slow progress. In some occasions I ended up calling CQ for 10 or 20 minutes with no single stations responding.
I must admit it felt good being wanted station. I guess several factors contributed. The first, Serbia was recently included in SOTA so it is wanted as such. Then, YU/ZS-023 was not activated before so it had to raise some interest. Also, this weekend was IOTA contest so many stations were active – actually I did get  some interesting stations coming to my CQ SOTA.
Propagations were changing all the time. Besides hard noise I got from near towers, which was constant, I gave lot of stations quite bad reports, and receive number of such reports for my signal. At teh same time other had really booming signals. Feeding was frequent and usually strong in both directions. One station even came back to me few minutes after QSO just to let me know that after bad report it gave me in QSO, few minutes later I had 59++ signal.
To sum up, in a bit over three hours of YT9TP/P activity I logged 70 QSOs. Worked stations: YO4PX, IT9JPW, UT5PI, 9K2GV, DM5KK, RA1AVP/1, DL4YAR, OM1AX, UA1ADZ, UT5EM, ON5SWA, IT9ABN, G6TUH, UR4VC, EA2DT, CT1BQH, G0RQL, IZ1PHT, SV3IEG, 4X4FW, OK1DPU, CU3EJ, EA1DFP, DH2AAK, LB9RE, RK3SWB, SM7GUY, RM9RZ, SQ9JKL, R5DU, EA2DT, F5PVX, RA3PCI, DL2RTR/MM, G3VXJ, SQ7CGN, 5B/SQ2MGM, UA2FT, ON4AEE, UA3GJM, ON7DQ, EA1NW, PA0U, OZ4RT, UX1IM, IU1DUK, A71BA, HZ1BL, GW4AYJ, 4L1AN, RK9UE, EB1ADD, F8BEC, F8EOI, UY5VA, DF2RR, UR0EG, YL3BF, HI/G0BKU, HF100BP, DH4TOM, SV5RLH, SP7KED, TA3ABM, LZ1ST, SP2CYK, OK1SDE, DD6WM, OH6KSX, 9H1VC/P.
Impressions? Awesome! I really enjoyed this kind of work. Although YU/ZS-023 is easily accessible peak, I did try to follow SOTA spirit and keep gear and comfort leveled. This is something I really liked and I am looking forward to activate some more demanding YU SOTA references.